Here are some pictures of our first week in Italy.
This is a view of the hills of Tuscany. We have been staying with Piero, a friend of Whitney's grandparents who owns a large home in the area.
Here we are on top of the Campinile in Sienna. Sienna is a gorgeous midevil town.
We spent a day swimming on this beach on the Mediterranean on the Island of Giglio. The water was very warm.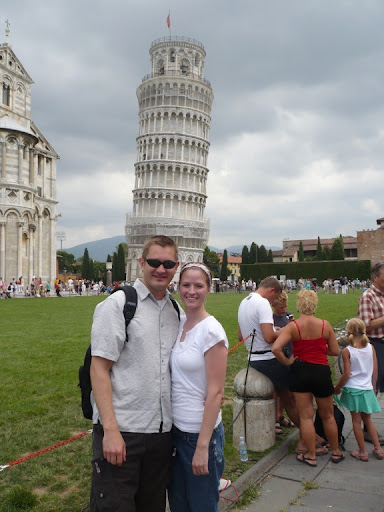 At Pisa.
This is the Doge's palace in the Piazza di San Marco in Venice. Behind in the background is the Basicila of Saint Mark. It is an amazing church built in the 10th Century. Supposedly we saw the apostle Mark's tomb inside. Whitney loves the relics (remains) they show off in glass cases of saints inside these ancient churches.
Here we are on top of the best of the three bridges spanning the grand canal in Venice. It's a pretty wild place.
We are staying in a hotel right on the water in Venice tonight. Then we return to Tuscany for one more night with Piero and then we are off to Florence for 2 nights. After that, we finish our trip with 4 nights in Rome.