Cheering death in the Colosseum. The floor has been removed to reveal the passage ways where they kept the animals.
Constantine's feet (and head behind) on Capitoline hill. This is all that is left of the massive statute.
Michaelangelo designed the sqaure on the hill that used to hold the ancient Roman senate. In the middle is a massive bronze statue of Marcus Aerelius made during his reign. It is actually a copy. We saw the real one inside a museum. It is said that its original gold plating will return when the world ends.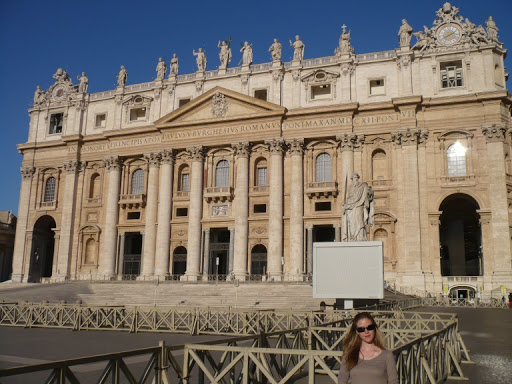 The Catholic mothership in the Vatican - St. Peter's Basilica. He's buried (they believe) inside this massive church.
A view of St. Peter's square from the top of the dome of the Basilica.
We also entered the Vatican museum. That place was huge but we loved the Raphael rooms (particularly Constantine's room where Raphael painted his battles and conversion in massive frescos) and, of course, the Cistine chapel where Michaelangelo painted the 10,000 square foot ceiling. The museum can take up multiple days of your time.